November 7, 2018
Category:

What's New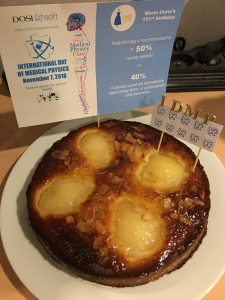 Spin-off from Institut Gustave Roussy and Institut Curie, DOSIsoft is delighted to celebrate the 6th IDMP on November 7, 2018 around the theme 'Medical Physics for Patient Benefit' and 151st birthday of Marie Curie. As a leading and important Medical Physics player, we work always on Medical Imaging & Dosimetry software dedicated to help improve the quality and precision of cancer treatment by Radiotherapy.
Our innovative radiotherapy solutions are focused on three axes: Quailty Assurance for External Beam Radiotherapy, Selectivity for Internal Radiotherpay and Targeting of the tumor as highlighted in the new white paper "Radiotherapy: seizing the opportunity in cancer care" published by Marie Curie Legacy Campaign.
The International Organization for Medical Physics (IOMP) organizes annually the International Day of Medical Physics (IDMP) on November 7, an important date in the history of medical physics. On that day in 1867, Marie Sklodowska-Curie, known for her pioneering research on radioactivity, was born in Poland. Today is also Marie Curie's 151st birthday.