DOSIsoft Announces the New Release of PLANET® Dose, Complete Dosimetry Solution also for 177Lutetium-based Therapies
June 9, 2017
Category:

Press release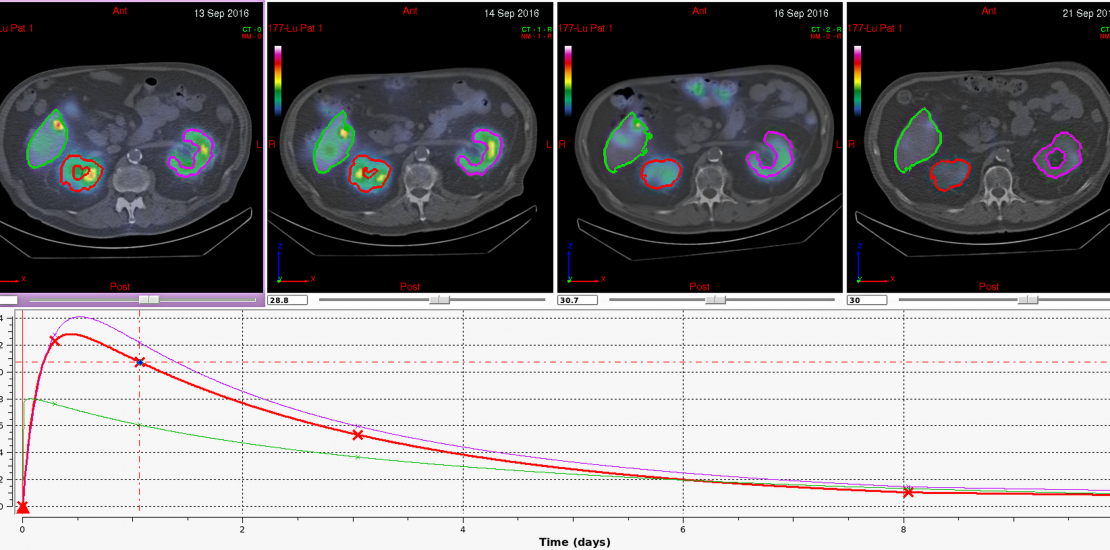 Cachan | Friday, June 9th, 2017
DOSIsoft SA, leading software solution provider, specialized in planning, imaging and dosimetry solutions for Radiation Therapy and Molecular Imaging, announces a new major release of its PLANET® Dose dosimetry solution for advanced radionuclide-based therapies.
Personalized 3D dosimetry for Targeted Radionuclide Therapies
Targeted Radionuclide Therapies (TRT) are getting a lot of traction for fighting specific cancer cases. Selective Internal Radiation Therapy (SIRT) with 90Y-microspheres has entered the clinical routine programs. New radionuclide-based therapies, in particular for neuroendocrine tumors using 177Lu-peptide, are showing promising results.
PLANET® Dose: software platform for personalized 3D dosimetry of radionuclide therapies
PLANET® Dose is a complete, versatile, high performance and vendor-neutral solution to assist in the planning and in vivo dosimetry of SIRT treatments with 90Y-microspheres and more generally of TRT treatments. Benefiting from all the advanced functionalities of PLANET® Onco dedicated to molecular imaging, PLANET® Dose also provides complete workflow for cancer diagnosis and staging, lesion contouring, advanced quantification as well as therapy response assessment. PLANET® Dose is CE marked since March 2016.
PLANET® Dose V3.1: new major release supporting 177Lutetium radionuclide therapies
This new major release of PLANET® Dose includes specific features for systemic therapies, in particular related to the pharmacokinetic modelling required for such treatments. The new features include: multi time points elastic image registration, deformable propagation of Volume-Of-Interest across times, residence time calculation, dose computation, consolidation of multi-treatment stages and advanced dose distribution analysis. This release includes further enhancements of the existing 3.0 release features regarding 90Y-microspheres treatment planning and in vivo dosimetry. PLANET® Dose is the first fully integrated imaging and dosimetry platform supporting multiple radionuclides and available for clinical use. It perfectly meets the new regulatory requirements in Europe regarding dosimetry of ionizing radiations.
"This new release is a great achievement and a breakthrough step in providing full personalized 3D dosimetry solution also for these new emerging and promising radionuclide-based therapies. We are convinced that our PLANET ® Dose solution will help centers in the planning, in vivo control and full traceability of such treatments both during their clinical studies as well as routine usage. We are also convinced that our solution will help in optimizing and improving such treatments for the benefit of patients." said Sébastien Vauclin, PLANET Product Manager at DOSIsoft SA.
About DOSIsoft
Founded in 2002, DOSIsoft develops cutting-edge software solutions for Radiation Oncology and Nuclear Medicine. 15 years of innovation and R&D investments have led to world leading software solutions used successfully in over 160 hospital centers in 18 countries around the world. DOSIsoft constantly innovates in partnership with the major cancer institutes and research centers. www.dosisoft.com
DOSIsoft will participate in the Annual Meeting of SNMMI from June 10 to 14th, 2017 in Denver, USA. Come visit us in booth #908.