Marc Uszynski is Nominated as DOSIsoft's Chief Executive Officer
September 15, 2016
Category:

Press release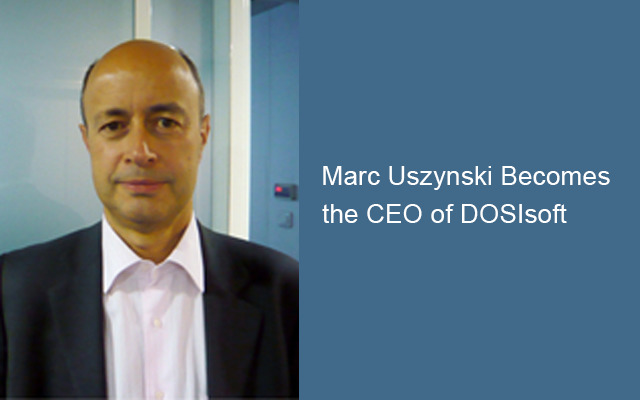 Cachan | Thursday, September 15th, 2016
To support its growth, DOSIsoft announces the nomination of its new CEO: Marc Uszynski, 54 years, who will be managing the company together with Hanna Kafrouni, President of DOSIsoft .
Graduated from the Ecole Centrale de Paris as Engineer with a major in Applied Mathematics and Research Engineer in Artificial Intelligence and Computer Science at the University of Berkeley in California, Marc Uszynski has been working in the digital and software industry for more than 25 years.
Marc Uszynski started at Alcatel Alstom Research as Research Engineer & Project Manager in Advanced Computing. He then specialized in the product & commercial development of software applications in Alcatel (lately becoming Alcatel-Lucent), as Software Applications Product Line VP.
Before joining DOSIsoft, Marc Uszynski was the Corporate Development Director, in charge of the international development of Alten, a consulting and engineering firm, where he supervised the telecom, media, IT and digital sectors.
Passionated by high-tech, Marc Uszynski takes up a new challenge by joining DOSIsoft, company with a strong growth potential offering software solutions in radiotherapy and molecular imaging.
"My objective is to support the global development of DOSIsoft, optimize the organization of its workforce, rationalize its budgets and reinforce the international business development", declares the new CEO.
"DOSIsoft gives a warm welcome to Marc Uszynski. His nomination as CEO will allow the company to improve its global development strategy", said Hanna Kafrouni, the Founder of DOSIsoft.
About DOSIsoft
Founded in 2002, DOSIsoft is today a global software editor specialized in Radiotherapy and Medical Imaging. It provides a large product range: Treatment Planning System – Registration/Segmentation (IMAgo), Virtual Simulation (SIMAgo) and Dose Planning (ISOgray®); Patient Specific Quality Assurance (ThinkQA) – EPID-based Pre-treatment verification (EPIbeam) and in vivo dosimetry (EPIgray®) as well as Molecular Imaging – Diagnosis, Quantification and Therapy Response (PLANET®software suite Onco-Dose-Neuro).
More than 160 centers in over 18 countries use DOSIsoft software solutions to treat patients suffering from cancer.
Spin-off between Gustave Roussy and Institut Curie, DOSIsoft innovates software solutions in partnership with the major cancer institutes and research centers specialized in computer science and image analysis. Its quality system is certified to ISO 9001 and ISO 13485 standards.