Fast, reliable and independent 3D dose calculation for adaptive radiotherapy workflows
Using a fully independent and innovative Collapsed Cone Convolution algorithm, ThinkQA Secondary Dose Check is designed to verify if the dose distribution calculated by a Treatment Planning System (TPS) for External Beam Radiation Therapy (EBRT) is consistent with treatment plan parameters. It helps Radiation Therapy centers meet reporting and reimbursement needs, ensure compliance in plan quality and gain confidence in patient safety.
Compatible with linear accelerators, it has been specifically adapted to MR-Linac, supporting beam specificities and adaptive workflow.
Through its ergonomic web dashboard, the user can not only access full dose matrix analysis including automatic volume indicators, and Gamma Passing Rates, but also receive automatic report and perform approval action.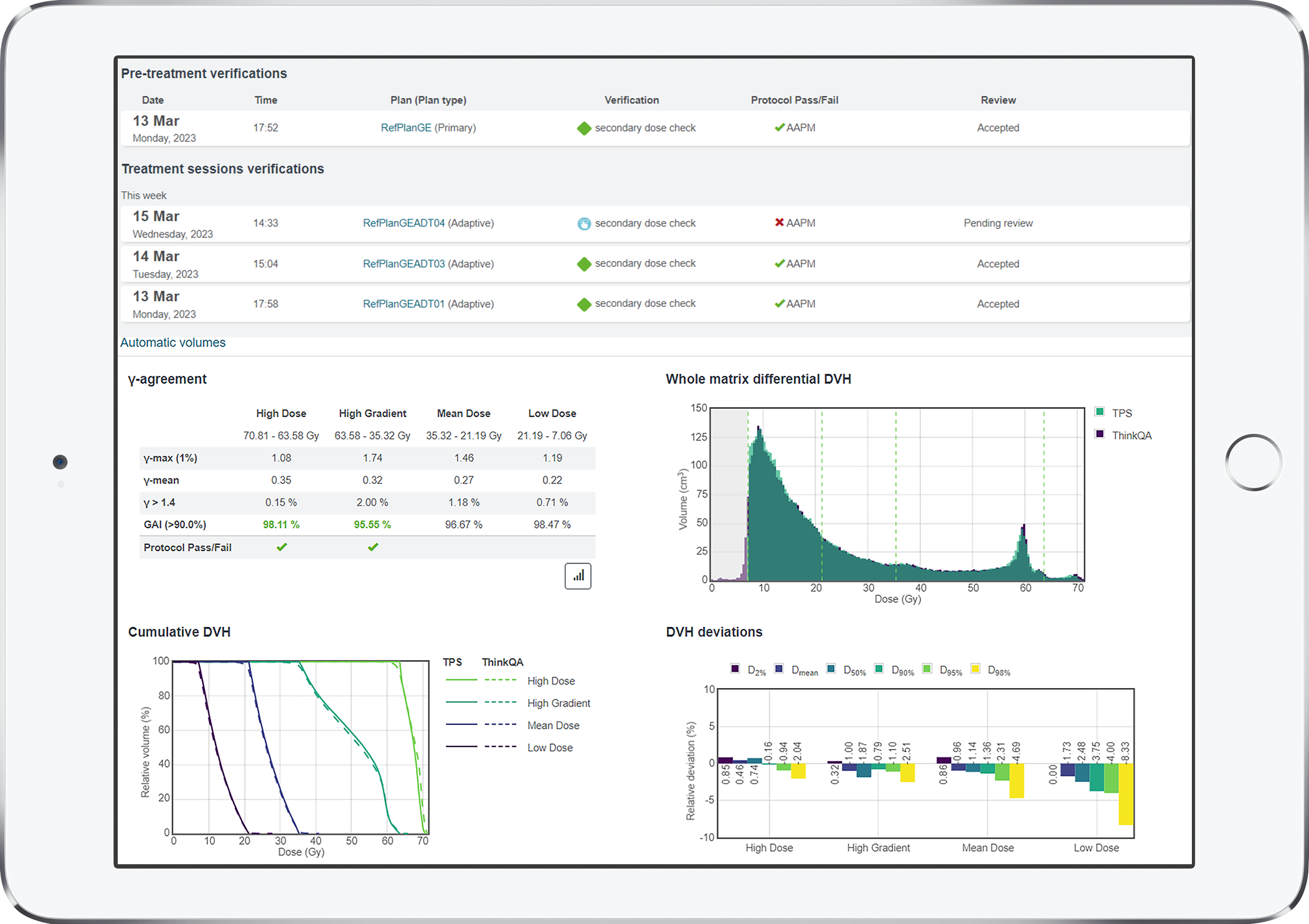 Designed for online adaptive workflows
DICOM import of RT structure set, RT plan, RT dose and CT image series

Automatic dose calculation once plan data receipt

Full web interface with plan verification summary and advanced graphics

Export session of treatment reports to OIS
Automatic 3D dose distribution comparison
Superimposition of full dose matrix differential DVH (TPS and ThinkQA dose values)

DVHs comparison and DVHs deviations (d2, d50, d90, d95, d98)

Four automatic volumes (High dose, High gradient, Mean dose and Low dose)

Gamma Index histogram for PTVs, OARs and automatic volumes

Gamma Passing Rate: Alerts based on 3D γ Agreement Index for PTVs and High dose volume
Fast & independent Collapsed Cone Convolution (CCC) algorithm with CPU parallelization

Whole dose distribution comparison results are provided within minutes

Automatic alerts in case plans fail to pass user-defined tolerance thresholds
User-friendly, web-based interface
Color-coded treatment plan verification outcome for each plan

Configurable approval actions (Accept, Reject and Ignore)

Treatment QA timeline insights per patient with primary and adaptive plans
Unique Dose Calculation adapted to Elekta Unity
Independent Collapsed Cone Convolution (CCC) algorithm

Beam model adapted to 7 MV FFF Elekta Unity beam with 3D wrapped point kernel in a 1.5T magnetic field

Includes patient couch and coils components

Editable cryostat transmission map

Ready-to-use beam model template for easy commissioning
* Product distributed exclusively by Elekta