Monitoring dose delivery with 3D in vivo dosimetry
Based on EPID (Electronic Portal Imaging Device), EPIgray® enables health professionals to catch a patient's dose deviation during their treatment course and to identify exactly the root causes of errors.
Equipped with 3D views and DVH graphics, EPIgray® offers an in situ display that lets you visualize differences between a predicted dose and a reconstructed dose, according to a 3D patient anatomy analysis.

It also alerts you in case of deviations, anytime, anywhere, within your internal hospital network!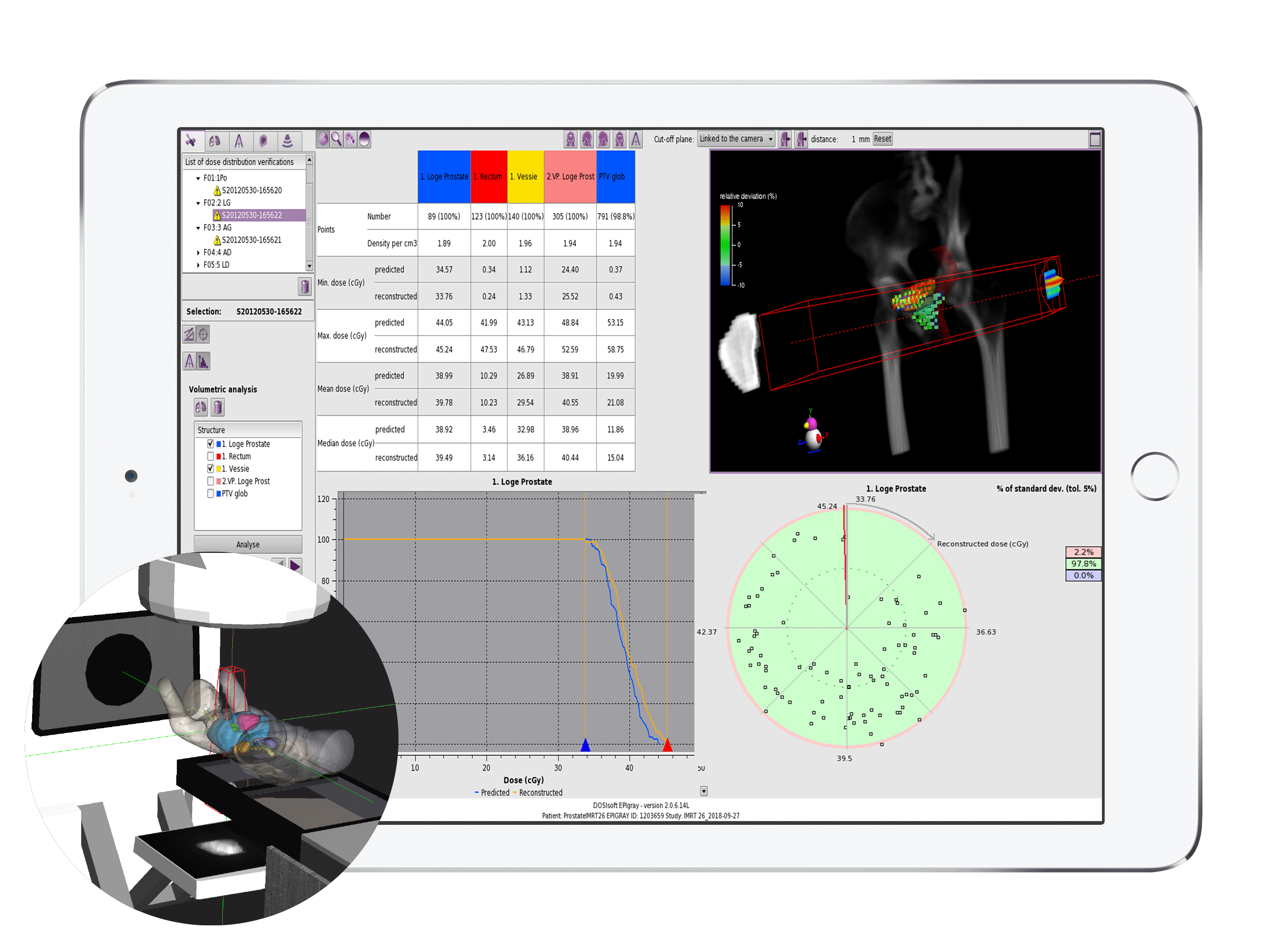 Automatic Error Detection for Target Volume
Dose deviation for whole fraction, according to tolerance levels

DVH difference between predicted dose and back-projected transit dose

Better assessment of treatment quality, fraction after fraction about delivery error, patient setup, anatomical changes, etc

Dose Volume Analysis for Organs at Risk
DVH comparison: predicted dose vs. reconstructed dose

Indicators for error locations and their severity, volume per volume

Color-coded deviations projected onto the beam portal image

Beam's Eye View display in the 3D patient anatomy for each beam

Dose Monitoring by EPIgray Web
Instant alert according to the value of reconstructed dose, based on automatic control points

Access to results and reports anytime, anywhere

Follow-up of all dose controls for each patient

Full error details about user-defined control points for whole fraction and per beam

Smart and vendor-neutral workflow

Compatibility with any LINAC, EPID, TPS and R&V

Compatibility with major techniques: 3DCR, IMRT and VMAT

Automatic deviation detections on patient's anatomical changes, patient positioning, gas presence, accessory use, etc.
* Product distributed exclusively by Elekta