Patient contouring made easy and precise for physicians
IMAgo handles multimodality image display and registration to bring comprehensive anatomical, functional and metabolic data. It offers you the possibility to identify and delineate a patient's target volume and organs at risk, in an easy and precise way!
Advanced features are provided for Atlas-Based Automatic Segmentation (ABAS) to reduce inter-user variability and 4D respiration management for the treatment planning process.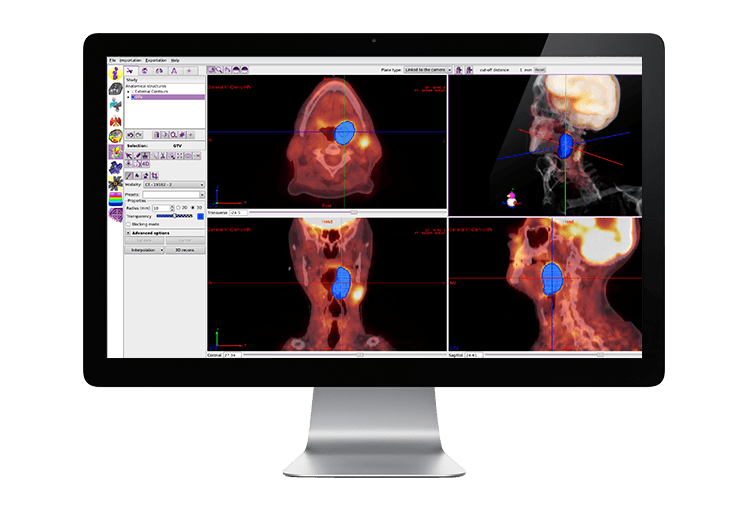 Multimodality Image Review
Simultaneous display of an unlimited number of DICOM-based image series: MRI, PET, SPECT and CBCT, in addition to CT images

Multiplanar display and 3D reconstruction with adjustable window-level
Robust & Fast Registration
Automatic or semi-automatic registration of images from any modality, using advanced algorithms (rigid and deformable registration methods)

Accuracy verification through convenient tools (chessboard, profile and spyglass)

Image fusion allowing quick identification of cell activity areas, detection of motions and changes, as well as rapid assessment on the benefits of the treatment
User-frendly & Precise Contouring
Intuitive manual and semi-automated contouring

Automated segmentation tools, especially for lungs, breasts, spinal cord, medullary cavity and external contour, to make your contouring tasks more efficient

Drawing and editing the most appropriate boundaries of the target structures and surrounding healthy tissues either in 2D or 3D
Atlas-Based Automatic Segmentation (ABAS)
Smart segmentation based on anatomical atlases and expert delineation

Identification and selection of organs of interest (brain, head & neck), within few seconds

Automatic adaption of the contour boundaries to the patient's' own organs, regardless of the size and shape complexity
4D Respiration Management
Support of 4D image series, to facilitate contouring on the various respiratory phases

A patient's anatomy changes are taken into account during the treatment session (respiration management)