Treatment Planning System with advanced Dose calculation
Right dose, right decision and fully interactive, ISOgray® enables you to make your clinical decisions based on accurate dose calculations and plan the dose delivery with confidence.
Inverse planning (IMRT) and aperture-based planning (OAPS) are also available to define your dosimetric objectives and restart an optimization at any time.
4D planning is naturally integrated in the TPS to offer a complete set of features focusing on its robust architecture, user friendly interface and efficient deformable registration.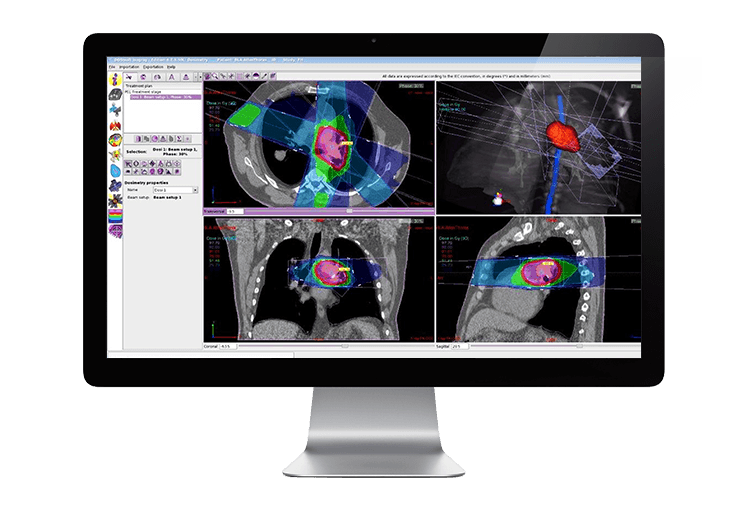 ISOgray® owns different dose computation algorithms for photon beams, from the robust model (Collapsed Cone Superposition) to the simple models (FFT convolution and 3D/SAR)

Electron beams are calculated with adapted 3D/SAR

Regardless of which model you choose, ISOgray® can fully exploit the performance of the machine and minimize the computation time to make your clinical process more fluent
Immediate Assessment of Plan Clinical Value
Instant display of 3D-dose distributions for normalized, relative or absolute dose

Direct interpretation of Dose-Volume Relations, according to criteria recommended by ICRU83
Easy Comparison of Rival Plans
Adjustment and comparison of 3D dose distributions and DVHs from several treatment plans, thanks to a special comparison toolkit

Comparison of different trade-off models between the target volume irradiation and sparing the OAR, by identifying and selecting the best treatment plan that meets your own dosimetric criteria and conformity index
Supporting both sliding window and step-and-shoot techniques, ISOgray IMRT provides a full range of user-friendly tools for time-efficient prescription, dose distribution optimization, as well as an optimize and realistic MLC sequence generation.
Aperture-Based Planning (OAPS)
Capacity on preparing a personalized IMRT plan in seconds, for situations where a limited number of segments meets the clinical requirements (field-in-field technique)

Time consuming compensator manufacturing or wedge manipulation can be avoided, such as in breast cases
All necessary tools to take advantage of 4D information (CBCT, 4DCT)

Powerful GPU-based elastic registration algorithm

Accurate dose at the right location, throughout the entire treatment

Transmission of structures from one imagery to another, reducing contouring time with efficient and fast deformable registration

Management of tumor size such as shrinkage or movement

Efficient and fast deformable registration (demons and superbaloo)

Dose distribution deformation and cumulative dose evaluation

Computations for 10 breathing phases within minutes

Strong and robust architecture with user friendly interface